Port Hope Dentist - Dr. Jordan Benedict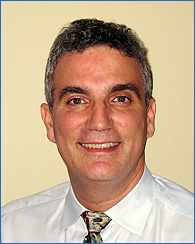 Dr. Jordan Benedict graduated from the Faculty of Dentistry of McGill University in 1992. For nearly two decades now he has been practicing as a family dentist and has built extensive experience in all facets of family dentistry and oral health.
In September of 2004 Dr. Benedict took over the Port Hope Dental practice of Dr. Gary Hamilton. He is pleased to offer continued treatment to existing patients as well as welcome new ones to the dental office. The experience of guiding a mature dental practice allows Dr. Benedict to care for the oral health needs of patients from their first tooth to maintaining smiles over a lifetime.
Dr. Benedict and his team of dedicated personnel, strive to provide personalized care in a comfortable setting. To ensure that his patients receive the best care possible, Dr. Benedict continues to enhance his skills through continuing education and the introduction of new technologies into the practice.
Dr. Benedict's Port Hope Dental office offers cosmetic, restorative and surgical dentistry to improve oral health, enhance smiles and boost confidence and self-esteem.
Currently, Dr. Jordan Benedict is an active member of:
Royal College of Dental Surgeons of Ontario
Ontario Dental Association
Toronto Academy of Cosmetic Dentistry
Crown and Bridge Study Club
Dr. Benedict's interests outside of dentistry include tennis, skiing, playing guitar and most importantly, spending time with his wife and two children.