November 2015


Happy Halloween from Dr. Benedict and Team!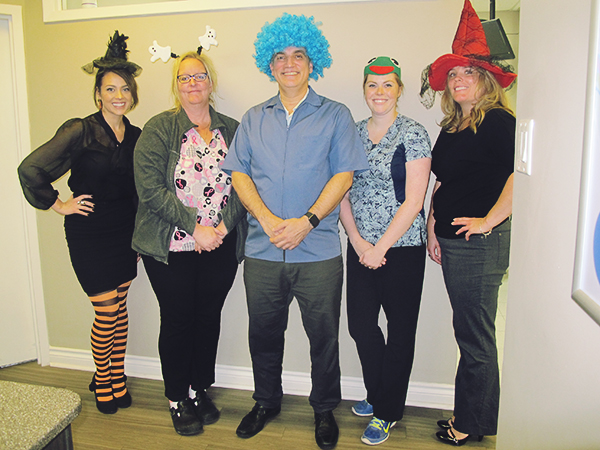 Click here for another photo!
---


Your Safety is Our Top Priority!

Dr. Benedict and the team completed our yearly CPR revewal on October 7th 2015. Our awesome instructor/fireman, Mike, was back in the office to help us refresh our CPR skills!

Click here for a photo from our training session.


Happy Birthday, Dr. Liz!

On Wednesday October 7th we celebrated Dr. Liz's birthday with a yummy lunch at Bualai Taste of Thai, and the fun didn't stop there! On Friday October 16th we surprised Dr. Liz with an assortment of cheesecakes.

Click here for more pictures!

---

---

Invisalign Holiday Special!


Limited time offer! Book by December 15, 2015 to receive a FREE Invisalign consultation PLUS $500 off your treatment*.

Call 905-885-5303 to make an appointment.

*For new cases only
Help Us Help Others

The holiday season is just around the corner and our team is holding a food drive in support of our local food bank.

We are pleased to be collecting non-perishable foods, canned goods, and unopened toys between October 5th and December 15th, 2015.

Check out photos from last year's drive!
---
Straight Teeth, No Braces?
Healthy One Pot Meals
Do you ever wish your teeth were straighter?

Do braces get in the way of your daily look and routine?

If an alternative was available, would you be interested?

At our office we are proud to offer our patients Invisalign. Invisalign is a revolutionary alternative to traditional braces and a great tool in adult orthodontics. The Invisalign system allows us to offer you a more beautiful smile, without the inconveniences and aesthetic hassles associated with braces.

Click here for more information on Invisalign!

Click here to see smiles improved with Invisalign!


There's just something so great about getting cozy with a warm bowl of soup or stew as the season turns colder. The best part is how easy it is to make these one-pot meals - in fact, it is easier than preparing your average dinner at home, which usually involves preparing multiple recipes to get a balanced meal.

Click here for a recipe for new age minestrone!
Port Hope Dental © 2015