Survey Winner Announced

Congratulations to the winner of our survey prize: De-Anna. We hope you enjoy your Timmies on us!

A huge thank you to everyone who took the time to fill out our survey! We really value your opinions and your feedback helps us make your experience at Port Hope Dental even better!
---
Blood Donor Clinic

Dr. Benedict will be sponsoring the Blood Donor Clinic at the Port Hope Lion's Recreation Centre on Monday, June 15 from
2:00 pm - 7:00 pm.

We invite you to come by and show your support!


Port Hope Dental Gives Back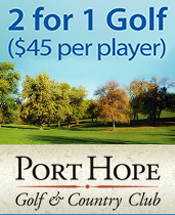 Dr. Benedict is excited to be sponsoring the Port Hope Golf and Country Club again this season.

Click here to see their promotion for the 2015 season.


---

Dr. Benedict will be sponsoring the Northumberland Lacrosse Rep team again this year. We are happy to be providing some team members with custom-fitted sports mouthguards. For more on mouthguards, click here.

Check out the team's schedule for 2015 and go cheer them on!