Port Hope Dental goes to the ODA!
On May 8 - 10, 2014 Dr. Benedict and his team attended the Ontario Dental Association Annual Spring Meeting. This year's keynote speaker was Colonel Chris Hadfield – what an outstanding start to the convention!

Everyone was able to take advantage of some of the many courses offered, including sessions on the latest in pediatric dentistry, caries management and periodontal maintenance. As always, the exhibit hall was filled with the latest in dental technology and equipment. Every year it's an awesome opportunity to touch base with colleagues, representatives and dental educators.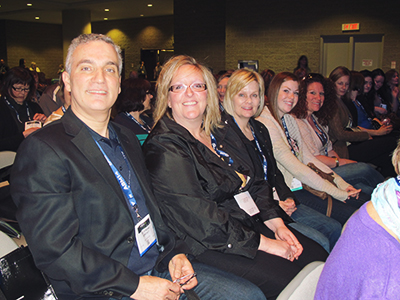 Stay tuned for upcoming articles and exciting dental news.

Click here for more photos!
Join Us in Celebrating 10 Years of Smiles

Save the date! Dr. Benedict is thrilled to be celebrating his 10th anniversary. Join our team for a celebration on Thursday July 24, 2014 from 6pm – 8pm

Click here for more info!

Please RSVP by July 10, 2014 by calling 905-885-5303.

---

Dr. Benedict wants to send you and a friend to cheer on the Argos!

All patients in for their appointments between May 1, 2014 and July 4, 2014 qualify for a chance to win 2 free Argos tickets for any regular 2014 season home game.

Click here to find out how to enter!

---
Blood Donor Clinic!

Dr. Benedict will be sponsoring the Blood Donor Clinic at the Port Hope Lion's Recreation Centre on Monday, June 16 from 2:00 pm - 7:30 pm. Come by and show your support!