Port Hope Dental Gets Into the Swing of Things

On Tuesday June 17th, Dr. Benedict and the Port Hope Dental team went to Port Hope Golf and Country Club for a fun evening of golf! After a delicious dinner of steak, corn and asparagus, the team headed out to the course, but unfortunately, the game was cut short due to the threat of thunderstorms.

The second time was a charm as the team headed back that Thursday during lunch and shared an afternoon of fun and laughter. Look out for Dr. B and his team at the DPGA (Dental Professional Golf Association tour). Just kidding, we're still changing lives one tooth at a time.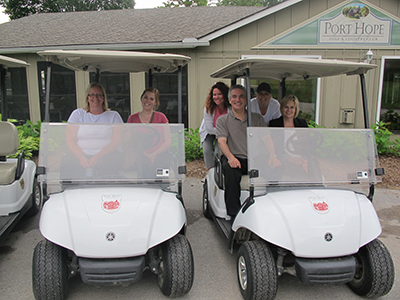 Click here for more photos!
Join Us in Celebrating 10 Years of Smiles
Save the date! Dr. Benedict is thrilled to be celebrating his 10th anniversary. Join our team for a celebration on Thursday July 24, 2014 from 6pm – 8pm

Click here for more info!

Please RSVP by July 10, 2014 by calling 905-885-5303.

Sports Mouth Guard Clinic!

It's that time of year again!

We are hosting our Annual Sports Mouthguard Clinic on Wednesday August 13, 2014 from 5:00pm — 8:00pm.

50% of profits will go to KidSport Northumberland.

Space is limited. Please call our office to reserve your appointment time.