February 2014: Tips, eNews & More!
---
Do you have Olympic fever?

The Sochi 2014 Winter Olympic Games are finally here. We are all excited to cheer for our Canadian athletes as they go for gold. Go Canada Go!

Are you feeling the chill of the season? We say embrace it! Take advantage of Family Day on the 17th and get outside! Ski, skate, or just put on some snow pants and play in the snow! The cold isn't going away anytime soon (despite what some groundhogs may say), so why not enjoy it? Be sure to bundle up and layer yourself well, you don't want to catch a cold.

If you do feel yourself getting sick, be sure to drink plenty of warm fluids and orange juice to load up on vitamin C to help your body stay strong. Some other tips to stay healthy this season include:


Wash your hands often
Avoid touching your face
Throw tissues away after use
Get plenty of sleep and good rest
Until next month, stay warm and keep smiling,

Dr. Jordan Benedict and Team
Help Us improve! – Striving For Excellence in Oral Health
---
We are always looking for ways to serve you better. Please take a moment to complete our short survey and help us continue to strive for excellence in 2014.



If you complete the survey before February 20th, you will be eligible to win our early bird prize - a tower of delicious chocolates!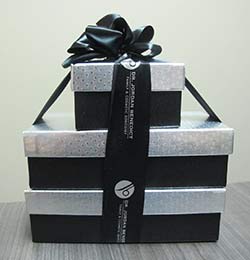 What's New!

---
Satisfying Some Cravingz with the Port Hope Dental Team

Dr. Benedict and his team took a healthy leap into the New Year with Chef "Z" at Cravingz restaurant in Port Hope. We took part in an interactive cooking demonstration – our hygienist, Laura, got a dicing lesson with the Chef and Berni couldn't wait to stir the delicious dish bubbling on the stove.

We shared a wonderful meal of organic kale slaw, chicken curry roti, and a fantastic black bean brownie for dessert. Chef "Z" shared his knowledge of spices and organic foods inspiring us "home chefs" to "spice" things up a little bit with our own home cooking. It was a great way to start the New Year and we can't wait to go back again to see what Chef "Z" has in store for us.
Click here for more pictures!
---
Zoom! Whitening Valentine Special
Port Hope Dental is offering $100 off on Zoom! Whitening this month in honour of Valentine's day. The offer is valid until Feb 28th, so hurry in to take advantage of the savings.
This in-office procedure is safe, effective and fast. Zoom! Whitening is ideal for anyone looking for a brighter, whiter smile and immediate results in just one office visit.

Click here for more information.

We recommend that you get your teeth cleaned before getting the whitening done for best results. To request an appointment, click here. To see results in our smile gallery, click here!
---
A Message from Your Hygienists

---
With February being heart month, our hygienists, Laura and Hayley, would like to give you some facts on the relationship between heart disease and periodontal (gum) disease.

Did you know that the same bacteria that is found in the mouth is also found in your arteries? The mouth is a pathway to the body, and your oral health is ultimately tied to your overall health.

People who have chronic periodontal disease are at a higher risk of a heart attack.

Click here to find out some of the other factors that could put you at risk.
---
New Patients Welcome!

---

If you know of someone who would benefit from our dental services, please let us know.

We truly appreciate your confidence and your referrals!


---
Flour-less Chocolate Cake
---
It's February, and love is in the air. We've got one more thing for you to fall in love with this month, a delicious flour-less, chocolate cake!

This yummy cake is topped with festive red berries. Enjoy a treat this Valentine's Day.

Click here for the recipe to get you started.


---