Summer Picnic Lunch
---
Nothing says summer like a relaxing afternoon picnic with family and friends. This month we have a few delicious recipes to make your next picnic an especially tasty one. Eat your fill and then settle in for a nice nap under the trees.

Summer Potato Salad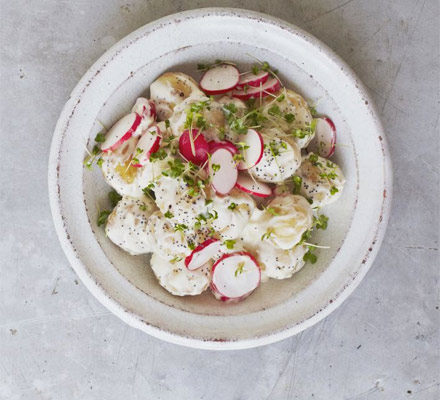 Ingredients
750g new potatoes
75ml buttermilk
2 tbsp light mayonnaise
1 tbsp Dijon mustard
1 tbsp white wine vinegar
1/2 tsp caster sugar
100g sliced radishes
1 tbsp poppy seed
20g pack mustard cress, to serve
Directions
Put potatoes in a pan of salted water, bring to the boil, then simmer for 12 mins until cooked through. Drain and cool.
Whisk buttermilk, light mayonnaise, mustard, vinegar and caster sugar with seasoning. Once spuds are cool, toss with the buttermilk dressing, radishes and poppy seeds. Sprinkle over cress to serve.
Pressed Picnic Sandwich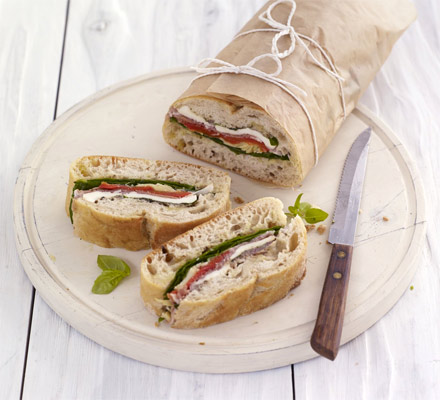 Ingredients
long ciabatta loaf, sliced in half lengthways
3 tbsp olive oil
1 tbsp balsamic vinegar
2 garlic cloves, finely chopped
1 tsp Dijon mustard
2 big handfuls of baby spinach
8 marinated artichoke hearts from a jar, quartered
250g roasted red peppers from a jar
8 slices prosciutto
big handful of basil
125g ball mozzarella, cut into slices
1/2 red onion, very finely sliced
Directions
Ask an adult to slice the ciabatta loaf in half lengthways and heat the oven to 200C/180C
Put the ciabatta loaf halves, crust-side down, on a large baking tray and drizzle with a little olive oil. Pop them in the oven for a few mins until just golden and lightly toasted.
Put the olive oil, balsamic vinegar, garlic and mustard in a bowl, then whisk them together with a fork.
Remove the toasted ciabatta halves from the tray and drizzle the bottom slice with about half of the dressing.
Recipe sourced from BBC Good Food.