Step 1 Hard boil eggs (as many as you need). I like to place them all in water and after they've been boiling for 9 mins, I remove them and place them in a cold water bath.
Helpful hint: spin the egg on the counter with the shell on. If the tip points up, they are hard boiled! If not, keep boiling them.

Step 2 Once eggs are cooled, peel and cut them, and save the yolks in a separate dish.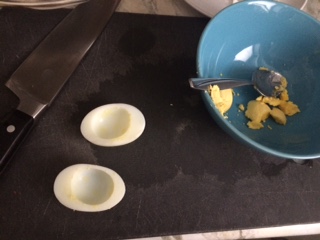 Step 3 Make coloured baths. In these photos, I used ten drops, but I think you should use less food colouring for more pastel tones for Easter. I recommend using 5 drops of green, blue, red (pink), yellow, orange (1 drop red, 4 yellow) and purple (3 blue, 3 red).
Add enough water to cover eggs and let them sit (preferably refrigerated) for 20-60 mins depending on how coloured you would like the eggs to be.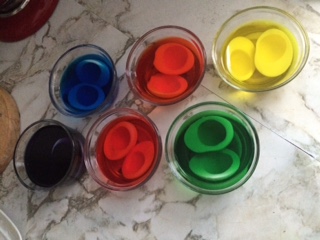 Step 4 Mash the egg yolks and add mayo 2:1 (1 cup yolks, 1/2 cup mayo). Add sliced green onions, salt and pepper to taste.
Helpful hint: if you spoon the egg yolks into a ziplock bag and cut the tip off, you can use it like an icing bag to easily pipe the yolks into the coloured egg hollows.

Step 5 Remove the egg hollows from the food colouring (I just used my hands). Make sure to shake off the water as it will dye your yolks.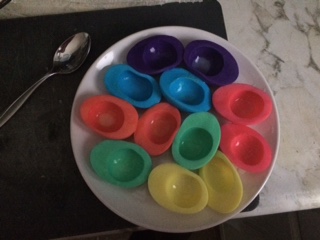 Step 6 Pipe egg yolk filling into egg hollows - note that the colour might transfer from one egg hollow to another on contact, so try to keep like colours together.

Step 7 Enjoy!